As we enter the second month of the covid-19 shutdown, it's becoming more vital to get fresh air and enjoy a change of pace. For our neighbors in the Northgate and North Seattle area, here is a Iist of things to do, places to go, and eats to enjoy along the way, all in a socially distant manner.
Wander through Nature at Carkeek Park
The largest park in walking distance of our own Haller Post apartment complex, Carkeek Park follows the babbling Pipers Creek all the way to Puget Sound. The park is home to squirrels, birds, and other wildlife that enjoy the greenery and thick wooded areas. Visitors can either drive straight to the white sand beach or walk one of several trails that pass through the forest, eventually leading to the water.
Visit the Ducks at Green Lake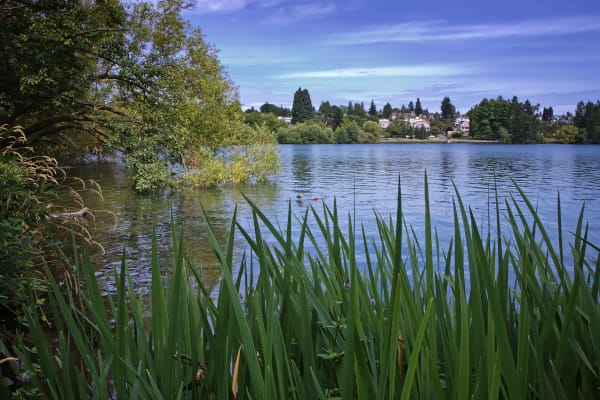 Formed by a glacier 50,000 years ago, Green Lake lies in the center of North Seattle between Northgate and Wallingford. The lake is surrounded by park grounds on all sides, allowing visitors to walk a full circle around the water. The park is a wonderful place to watch ducks and geese, and listen to the frogs in the evenings. Directly south of Green Lake is the Lower Woodland Off-Leash Area, a place for dogs to roam through the trees with their human companions. 
Watch Online Concerts Hosted by Tim's Tavern
While in-person concerts are closed during the outbreak, musicians still want to share their music and folks still want to hear it. The local live music venue, Tim's Tavern, is devoting its time to bringing live music to your computer screen, and is requesting donations to support artists through the crisis. Browse upcoming online music events hosted by Tim's Tavern.
Watch the Boats at Northwest 60th St Viewpoint
While the famous Ballard Locks are closed to visitors, there is still a fun spot to watch the boats come in from their voyages at the entrance to the canal. Find a spot by yourself or with your roommates and enjoy the view! You have your choice of restaurants to grab take-out from while in the area: Un Bien to the North, Portage Bay Cafe to the east, and Ristorante Picolinos to the northeast if you feel like spoiling yourself.
Have a Socially Distant Cook-Off
Cooking together with friends and family is a wholesome experience that can't be beat. To capture the magic from separate homes, you might challenge your friends to a cook-off. Show off your favorite meals, guilty pleasures, or best Australia-shaped pancakes. There's no wrong answers. 
If your apartment is equipped with stainless steel appliances and quartz countertops like Haller Post in Northgate, consider giving your friends an online tour. (Speaking of virtual tours, we're offering a 3D look at all our apartment layouts!)

https://mlaprryfyafk.i.optimole.com/w:auto/h:auto/q:mauto/ig:avif/f:best/https://hallerpostapts.com/wp-content/uploads/2020/04/green-lake-seattle-main.jpg
400
495
Haller Post
https://hallerpostapts.com/wp-content/uploads/2018/10/hp_logo_hdr-v2.png
Haller Post
2020-04-23 21:02:23
2020-04-23 21:13:03
Social Distancing Activities Near Northgate, Seattle